Carrie Ann Coupe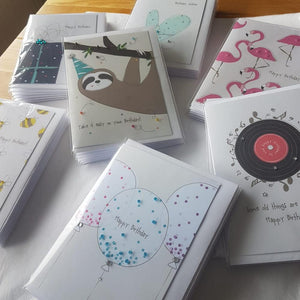 Carrie-Ann Coupe is an independent family run greeting card publisher based in Rochdale, Lancashire.

Carrie-Ann graduated from Salford University in 2004 with a BA (Hons) in Graphic Design. Having worked in the branding industry since graduating, this very corporate world came with its limitations. Born out of the love for the handmade, hand drawn and surface pattern Carrie-Ann initially started by making cards for friends and family, producing everything by hand!
Through attending various craft fairs, interest from trade began and with a lot of help from family we were able to launch Carrie-Ann Coupe at British Craft Trade Fair, Harrogate in 2012. Even to this day you will usually find family helping out at shows!

Whilst each card is beautifully handcrafted, each range is imaginatively designed to represent the various occasions in the greeting card calendar. Designed digitally, all of our greeting cards are printed in the UK and then hand finished by ourselves. Embellishments finish these decorative greeting cards.
Carrie Ann Coupe